Cut Content
Cut Content referes to mechanics, objects, graphics etc that didn't make it into the final game but are still present within the game's data.
Pressure Plates

Pressure plates can be found in the game files and could have served as another type of obstacle. They are fully functional and can do the following things: - Nothing - Spawn a random chest - Spawn 6 Attack Flies - Spawn 6 Troll Bombs - Activate Curse of Darkness for the rest of the floor - Spawn a random pickup - Spawn 15 random coins
Buttons appear in rooms.
Various half hearts

Half Soul Heart and Black Heart pickups are in the game files, but they cannot be found in-game.

Half Soul Hearts are an unlockable pickup.
Colored Destructibles
There are several colored versions of certain destructibles, which could have served a purpose similar to tinted rocks.
Sisters Vis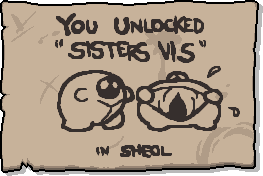 A boss version of the Vis enemy that could have appeared in Sheol. The Sisters Vis were also a boss in Gish, one of Edmund McMillen's previous games.
This boss can be encountered, but can appear as early as The Depths and isn't unlockable.
Unused 12 Room Charge

By editing the game's "items.xml" file and setting an item to maxcharges=12, it's possible to see the charge bar in-game.
The bar is used for the Mega Blast item, which has a 12-room charge.
The bar is also used for the Delirious and Eden's Soul items, which have 12-room charges.
Breath of Life Animation
Unused Jar Charges

Unused Floors
By disabling the invalid seed check, and using an invalid seed, you can continue the game after The Chest and Dark Room, up to an additional 14 floors. They use pre-existing graphics and the same layout.