Dice Room
Found behind doors which require two keys to open, Dice Rooms randomize many aspects of the game, depending on the number imprinted on the very large red die embedded in the floor. Stepping onto the center of the die face activates its effect. The effect of a dice room may only be used once, but multiple dice rooms can be used on a single run. A Dice Room has a chance to appear in place of a Sacrifice Room if Isaac is carrying 2 keys or more.
Dice Rooms also commonly contain chests and other consumables. Rarely, they contain enemies or items from the Treasure Room item pool.
Effects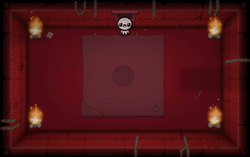 The dice numbers and effects are:
Notes
It is possible to re-roll a floor into another that has a 5-pip Dice Room. Getting a 5-pip dice room in The Womb/ Utero II can allow the player to defeat Mom's Heart (or It Lives) multiple times in one run. This can be used to quickly gain progress tied to the number of Mom's Heart kills.
It is possible to unlock Samson by finishing the first floor and entering a 5-pip Dice Room.
A 5-pip dice room on an XL floor sends Isaac to the beginning of the chapter.
When shop pickups are re-rolled via the 3 or 6-pip room, the original prices will remain in place.
3 or 6-pips Dice Rooms can reroll chests in Challenge Room or Boss Challenge Room into a collectible. And since those rooms detect whether a chest is open or an item picked up, there won't be any monsters.
3-pip room can re-roll shop consumables into items for the price of the consumable.

Using items such as The D6 in the room without buying the item can cause the item to revert to a consumable.

There is a small chance that 1- and 6-pip rooms will not reroll every item Isaac has in his possession.
Dice Rooms don't re-roll starter challenge items or remove blindfold on challenges.
Dice Rooms have a small marker indicating the effect that will be activated when the room is used. This was inspired by this Steam Workshop mod by Wofsauge.
Gallery
Seeds
 PC  8ZCP Y8KK (1-pip room, Necropolis I, far northeast room. Good late game randomizer.)
 PC  R4V7 603Q (2-pip room on Necropolis II)
 PC  8Q88 CP4J (3-pip room on third floor)
 PC  Q3TZ WQLG (Three 5-pip rooms. Two on the second floor, one in Utero 2. If played with The D6, can become Lord of the Flies and Guppy. Very good run.)
 PC  KTEJ KLPP (5-pip room adjacent to spawn)
 PC  HA1A P0SF (6-pip room on second floor)
Bugs

Bug!
The 1-pip room may reroll your active item into a "passive" item. The 1-pip room always empties your active item slot. However 1-pip room may fail to find a replacement item which results in Isaac still having the collectible. This is because the D4 will try 3 times to get a non-active item from the item pool before giving up replacing the item.

Bug!
The 1-pip room will reroll your secondary active collectible without emptying the slot. This means you will keep the active ability but lose some passive abilities. For example, you will lose
Mom's Box
passive of doubling trinkets but you keep the speed boost from
A Pony
.
Unlocked

Boss Room

Mini-Boss Room

Curse Room

Sacrifice Room

Closet

Grave Room
Locked

Treasure Room

Shop

Library
Slotted

Arcade
Barred

Challenge Room

Boss Challenge Room
Double-locked

Vault

Dice Room
Double-boarded

Bedroom
Hidden

Secret Room

Super Secret Room

Crawl Space

Black Market

I AM ERROR
Post-boss

Devil Room

Angel Room

Boss Rush

Blue Womb Entrance